ESD Gloves & Booties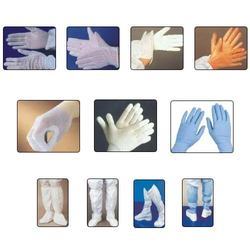 ESD Gloves & Booties
Product Description
We offer a wide range of ESD Gloves & Booties that are manufactured with conductive fiber with polyester, which protects sensitive devices against ESD damages. Our wide range of Gloves is suitable for normal and less stringent controlled environment and comes with special coating on the palm side to provide better grip while wearing them. Further, the Polyurethane coating on the gloves provides anti-slip and anti-cut.
Feature of ESD Gloves & Booties:
Antistatic Vinyl Gloves
ESD Fabric Gloves
ESD PVC Dotted Gloves
PU Coated ESD Gloves
Palm Coated ESD Palm fit Gloves
ESD Finger-tip PU Coated
ESD Nitrile Gloves
Standard Fabric Booties
Standard/PU
Standard/PVC
Standard/PU/PVC
The entire range of these Gloves is lint-free gloves and available in S, M, L sizes and manufactured with PVC, PU material. These can also be manufactured as per the specifications, detailed by our clients.